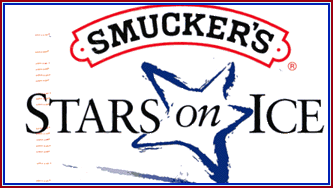 SMUCKERS' STARS ON ICE 2002-2003
Touring the U.S.A.
Sale/Pelletier, Elena/Anton & Ina/Zimmerman & Alexei Yagudin to join KURT BROWNING in "STARS ON ICE!"
Witt, Eldredge, Meno/Sand also set to tour!
***
Media
KURTKOUNTRY BACKSTAGE EXCLUSIVES
BACKSTAGE @ SMUCKERS STARS ON ICE '03: ANAHEIM '03 NOW HERE!
BACKSTAGE @ "SMUCKER'S STARS ON ICE: SAN DIEGO '03" NOW HERE!
BACKSTAGE @ "HSBC STARS ON ICE: VANCOUVER '03" NOW HERE!
*****
KURT SPEAKS FROM REHEARSAL
Spoke to Kurt on September 25, 2002 via phone from Simsbury, CT where preparations for the US SOI Tour are underway, apparently it is a fast-paced show featuring an "Ozzy Osbourne opening" and "Will Smith" finale. He says he feels as if he is "getting back into shape," and is excited about taping his new TV special Nov. 1 in Hamilton, ONT. As well as working with Scott Hamilton in October. Kurt is working closely with the choreographers this on many aspects of the show this year and he is having a ball with the talented cast- especially Alexei Yagudin.

Kyoko Ina's shoulder injury resulted in successful surgery and is expected to tour as scheduled. Sylvia Fontana is her stand in for the rehearsal process.

*****
2002-03 TOUR SCHEDULE
.
BUY US TOUR TICKETS HERE
For more info visit: the official website.
Click here for 2002 TOUR IN REVIEW!
HSBC Stars On Ice Canada
Toronto, Ontario (November 27, 2002) -- Canada's premier ice show, HSBC Stars On Ice, launches in Halifax on April 16, 2003 and will bring together the very best skaters in the world. Making their debut will be 2002 Olympic Pair Champions Jamie Salé & David Pelletier. In addition to winning an Olympic gold medal in Salt Lake City, Salé & Pelletier won the hearts of millions around the world in what was one of the most unforgettable moments in Olympic history. Part of that history will extend itself to HSBC Stars on Ice when Salé & Pelletier are joined on the ice by 2002 Olympic Pair Champions Elena Berezhnaya & Anton Sikharulidze. Tickets go on sale nationally Saturday November 30, 2002, (in Edmonton Friday November 29th), in time for the holiday season. "We are thrilled to be skating in the best-produced tour in North America," said Salé. "Stars On Ice offers us the ability to best express ourselves creatively with the total package of great choreography, wonderful ensemble numbers and world class lighting, staging and costumes," said Pelletier.
Stars On Ice is proud to welcome HSBC Bank Canada, 'The world's local bank' to the tour as title sponsor. It is fitting that 'The world's local bank' joins the world's best skaters to deliver this truly unique entertainment property to local skating fans from coast to coast - A Perfect Fit!
"HSBC Bank Canada is proud to be the new title sponsor of the HSBC Stars On Ice 11-city Canadian tour," said Erik Sande, Vice President, Marketing and Sales, HSBC Bank Canada. "With more than 160 offices across Canada and an international network of over 7000 offices, the HSBC Group is one of the world's largest banking and financial services organizations. As 'The world's local bank', HSBC is happy that our title sponsorship will enable Canadians to enjoy performances by some of the very best figure skaters from Canada and around the world."
Returning to HSBC Stars On Ice and set to charm audiences across Canada are fan favorites, four-time World Champion Kurt Browning, Olympic Champion and four-time World Champion Alexei Yagudin, and two-time Olympic Bronze Medalists Isabelle Brasseur & Lloyd Eisler.
"HSBC Stars On Ice has always been about entertainment," said Kurt Browning, who has been part of the Canadian tour since it began. "Fans never know what to expect, but they know they will leave the show with a smile."
The impressive cast of World and Olympic skating champions will also include World Champion and six-time U.S. National Champion Todd Eldredge, and five-Time Canadian Champion Jennifer Robinson. JUST ADDED: World Bronze Medalist, Kyoko Ina & John Zimmerman! Additional skaters will be named to the show in the coming weeks.
HSBC Stars On Ice is also proud to welcome the following sponsors to the 2003 production: Melitta Canada, Wampole, Lipton, Carlson Wagonlit and PharmAssist (IDA and Guardian Pharmacies).
With an elite production team headed by acclaimed show producer/director and choreographer Sandra Bezic, and musical selections ranging from Leonard Cohen to Bon Jovi and Tony Bennett to Will Smith, this edition of HSBC Stars On Ice will explore themes of power - athletic power, star power and the power of a dream.
2003 HSBC Stars On Ice Tour Schedule
Wednesday, April 16 Metro Centre Halifax, NS
Saturday, April 19 Corel Centre Ottawa, ON
Tuesday, April 22 Pepsi Colisée Quebec City,QC
Wednesday, April 23 Bell Centre Montreal, QC
Friday, April 25 Air Canada Centre Toronto, ON
Saturday, April 26 Copps Coliseum Hamilton, ON
Sunday, April 27 John Labatt Centre London, ON
Tuesday, April 29 Winnipeg Arena Winnipeg, MB
Thursday, May 1 Skyreach Centre Edmonton, AB
Friday, May 2 Pengrowth Saddledome Calgary, AB
Sunday, May 4 General Motors Place Vancouver, BC
Tickets on sale now!
GUEST REVIEW: SOI IN HAMILTON, ONT
BY IRIS ROGERS
SOI in Hamilton was very well attended and it was a very excited and appreciative audience.
Great and Powerful Oz - I hardly knew where to look in the opeing number, everyone was so good and all so happy and upbeat. Kurt, Jamie and David and Alexi got the biggest cheers but really everyone got recognized with huge cheers.
Born to be Wild - It was great to see Steven back skating and he was just beaming the whole time and skated well.
Bed Of Roses - K and John were fantastic. They have superb lifts and the emotion in this number is wonderful. K is really coming out of herself.
My Favorite Things - I was worried about Kurt (having heard that he hurt his knee in Toronto the night before) but he was fantastic, skated great and didn't look like he was favouring his knee. I saw this number before as a Christmas present but dressed up as a postman with a brown paper package tied up with string was even better. It is really amazing the things he manages to do with this box, and despite of the box, very imaginative as Kurt usually is and performed wonderfully. Standing O.
Come Fly with Me - Jamie and David were right on! I love this program, costumes, flying lifts and bright smiles and thought of Jamie saying once she loves the feel of flying when she skates - she sure gets it here!! Standing O.
Hotter than Blue - Jennifer and John and Steven - I loved Jennifer in this. The green dress was great on her and she really got into the program. I had heard people say they didn't like her in this, no way she was great and of course John and Steven - they got lots of whistles.
The Middle - I thought it was cute how Lloyd was dressed as a prep and Isabelle the "bad girl" and they wowed everyone with their dare-devil lifts. It's pretty unbelievable that they are still doing this scary stuff - WOW! Standing O
How Do You Keep the Music Playing - This shows how versatile and truly amazing our Kurt is - fantastic. Keep skating Kurt - you are the best!!! Standing O
Power Play - This is such a great program. Sandra deserves great praise for such an innovative and thought provoking program on "how everyone is unique" and puts a whole new perspective on judging. I loved the costumes - great colours, the way J&D and E&A came in and out, skating on their own and then together and of course the handshaking at the end. BUT I loved Todd in this, first of all his voice is so great, he is so at ease and skating in between mike in hand. He is such a good pick to do this part, because as a skater he was often judged for not being as technical.....his spins are unparalled and his artistry first rate. Standing O
2nd Act
Studz - the girls were out when the lights came on, dancing to the on ice people and really getting into it. Everyone kept saying they aren't on skates! then the guys come out and its laughter from start to finish. Its so great to seem them having so much fun and letting loose and of course the audience went wild. Standing O
Amaio Mio - Jennifer had a hard time with this skate. I have seen her do it before so much better, but hey this is for TV she got to come back later and correct her two spills. I loved her red dress - looked fantastic on her.
Disco Science - Steven was so funny with his sunglasses on and hammed it up and of course that fantistic smile had all the young girls yelling. He didn't seem up to par, but he wasn't even suppose to be skating yet (doctor didn't think he be back this year)
A Friend to Me - Lloyd and Isabelle were wonderful in this....its nice to see them do something more serious but wow was this emotional, cuz it really seems like they are going to stop soon. They were incredible. Standing O
Miserere - I think this is Todd's best program ever. In his traditional classic style he is just so GOOD, wonderful edges, spins, jumps and feeling. Hey I missed his number in the first act - very different jazz type number - very well done that I was him do in pro competion before and is really a great risk for him and I applaud him for it, but I like him best of all in this.
Elvis and Marilyn - really neat start with Kurt rolling a blanketed Elena out on a moving trolley and dusting her off and then Anton coming alive under his wrap. Anton has really grown into his Elvis roll over the year and is so funny. I love Elena in her Betty Boop mode and she too is coming out of herself and seems to be having so much fun. They actually had a fall in this but it was so cute and they made it seem like part of the routine. If you hadn't known it was a mistake it was believeable. Well done, skated again in retakes and received a Standing O.
Racing - Alexi looked fantastic and did a quad or triple/triple/double combo (couldn't tell if it was a quad) and another triple triple and looked really fit. His footwork as usual was amazing and you could tell he was so happy to be skating and so appreciative of the audience's approval. Sure hope he gets some rest and comes back as good as new. Standing O
Lovin,Touchin, Squeezing - True Jamie and David, perfect program with a great and long handstand right in front of me and beaming at each other and the audience the whole time. Really cute bows with David flinging Jamie around and each bowing to the opposite side. Standing O
Slippery Side Up - Unbelievable Kurt - a true performer, a real comic, reaching out to every audience member, and the technical difficulty in this program is unequaled - how he manages to skate with his guards on and doesn't get bruised from head to toe in his falling episodes is a mystery!! Standing O
Finale - No one wanted this to be the case, it could have gone on all night. Right after they finished, Kurt took the mike and said, "we are going to do that again" and they did. Not sure what was wrong with the first take, but they did it again. Jamie grabbed the mike and said "well I don't know about your endurance but we need a break first." They came out almost immediately and did it through again with even more energy.
Because it was for tv, we then had retakes and Kurt was funny and said how wonderful Hamilton rink was for him as he didn't have to redo anything. He then left and said he had to change and went thru a funny changing scene inside the curtain and came out with only the addition of a Copps Arena jacket, making a joke about how he had to grow into the jacket, (jacket pushed out front) oh no that is my wife. Then proceeded to tell everyone about their expected new addition. Steve teased him that he wasn't going to get a drive home and that he wasn't driving him. The rest of the retakes were introduced by Jamie first and then Jamie and Isabelle saying all the guys were in the shower. Finally Jamie said she had a special guest but we could only have him for a minute and David came out in shorts and sandels and said "you heard Kurt was expecting, well so am I - I am expecting you back here next year. And my minute is up so thanks". Kurt also came back out in shorts and said his final goodbye.
All in all a wonderful memorable night! You are really going to enjoy the last show in Vancouver John. I know it will be a special blast. It must be really special to see how the programs change and evolve through-out the US tour and then the Canadian final show.
RETURN HOME!

we have received here!

All material

Copyright 2001-02 by John H. Baker, unless otherwise indicated.