KurtKountry: An Unofficial Kurt Browning Website



TARGET STARS ON ICE 2001-2002
Touring the U.S.A.
NEW!GUEST REVIEW OF TORONTO & HAMILTON SOI BY IRIS ROGERS (scroll down to CANADIAN section)
ELDREDGE JOINS STARS ON ICE US & CANADIAN TOURS
Target Stars on Ice presented by ThermaSilk is proud to welcome World Champion and six-time National Champion TODD ELDREDGE to the 2001-2002 cast! Eldredge will join the show beginning Tuesday, February 26th at the Mark of the Quad Cities in Moline, IL, and remain through the season's final tour date, Saturday, April 20th in Portland, ME. "I very much look forward to this new and exciting chapter in my skating career." said Todd. "Performing in Target Stars on Ice is a wonderful opportunity, one that will not only provide me with the chance to work with the world's top skaters, directors, choreographers and designers, but will allow me to grow as an artist and as an entertainer."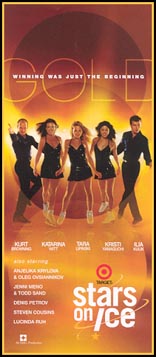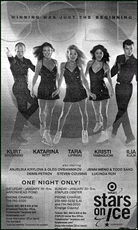 CALL 1-877-99-BLADE FOR TICKET INFO
Target Stars on Ice presented by ThermaSilk tickets go on sale to the public on Monday, December 3rd at 10 am local time. Be sure to buy your tickets for America's premier figure skating tour and find out the real meaning of 'Gold!' And don't forget, Target Stars on Ice tickets make great holiday gifts! If holiday shopping is what is keeping you busy right now, check out the NEW 'Stars on Ice Video Volume II - Scott Hamilton Farewell Tour' now available online at http://www.starsonice.com/store.
Interested in finding out what the new tour has in store this year? Check out the behind the scenes photos from the Lake Placid, NY show at www.starsonice.com
We look forward to coming to your city very soon!
STARS ON ICE CAST ANNOUNCED

By Rebecca Patrick for the Blades On Ice Website

Two-time Olympic Champion Katarina Witt will be returning to Stars on Ice for the 2001-2002 season confirmed tour publicist Michael Sterling. Witt last appeared in the U.S. version of the tour in 1998. Other additions are reigning Olympic silver medalists and two-time world dance champions Anjelika Krylova and Oleg Ovsyannikov and Swiss spinning sensation Lucinda Ruh.

Returning headliners from last year are Olympic gold medalists Tara Lipinski, Kristi Yamaguchi and Ilia Kulik and four-time world champion Kurt Browning. Rounding out the cast: world silver medalists Jenni Meno and Todd Sand; Olympic silver medalist Denis Petrov; and British champion Steven Cousins. The tour will visit sixty-one cities, beginning November 24th in Lake Placid, New York.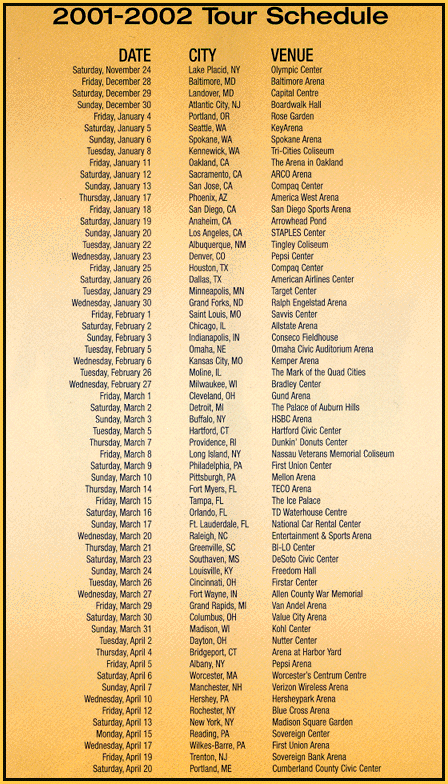 Click here for further information.
THE 2000-01 (SCOTT HAMILTON'S FINAL TOUR) US TOUR IS NOW AVAILABLE ON VHS FOR $19.95 (us) FROM MAYFLOWER PRODUCTIONS. IT IS CALLED "THE BEST OF STARS ON ICE -- VOLUME 2: SCOTT HAMILTON'S FAREWELL TOUR"
VOLUME 1 ALSO AVAILABLE!
CALL TOLL FREE: 1-888-258-9666 OR FAX 203-324-5299 FOR MORE INFO.
*ABOVE INFORMATION PROVIDED AS A COURTESY ONLY. THIS WEBSITE BEARS NO RESPONSIBLITY FOR LISTED EVENTS, MERCHANDISE OR BUSINESSES.
CAST LIST
Kurt Browning
Kristi Yamaguchi
Brian Orser
Brasseur & Eisler
Alexei Yagudin
Shae-Lynn Bourne & Victor Kraatz
Jenni Meno & Todd Sand
Todd Eldredge
Lucinda Ruh
*More skaters still to be confirmed.
Tickets on sale December 3, 2001.
GUEST REVIEW OF TORONTO & HAMILTON
BY IRIS ROGERS
I Just wanted to let you know how much I enjoyed Stars on Ice in Canada. I had always intended to go to Hamilton's show, but was lucky enough to have 2 great tickets given to me for the Toronto show by our Software representative as well. We sat in the 4th row and had a great view, plus we got to go down to a company room for dinner and in intermission. It was a great surprise as I was given them Friday morning. Then to see it again on Saturday night was fantastic - interesting to see a bit of change in things the next night.
I thought the show was excellent and show-cased every one of the skaters very well. Lucinda Ruh was fantastic in her spinning, I loved Kristi's skate to "Gold" (by Linda Eder) and am so glad she decided to come to Canada this year. Todd was amazing and Jenny and Todd were the best I have ever seen them.
Alexei was great and did his short program as one of his skates which I love.
Shae and Victor did their Jackson number but another that really emphasized their hydroblading dressed in spider costumes which were supberb.
Lloyd and Isabel were as daring as ever and really got the crowd going.
Brian Orser did his number from the Sears Open which he won - A Step Back in Time to figures, very well done! The group numbers were cute, inventive and showed their versatility. It was very funny to see the fellows dressed up for the can can number.
I particularly enjoyed seeing Vic in that as he always seems so serious to me and was having a great time and grinning from ear to ear.
Kurt was wonderful and completely magical on the ice to every note of music on Friday night. Unfortunately, Saturday night he blew a lace on his one skate and ended up falling three times, but came out and skated it over again without a problem. Way to go Kurt!! Hamilton was being taped for TV.
Kurt is doing his "Gotta Dance Show" in Hamilton in November and I am really looking forward to seeing that. I saw the original Vancouver one on TV and think this will be a real treat. HE IS THE BEST!!!