TOMMY TUNE ON KURT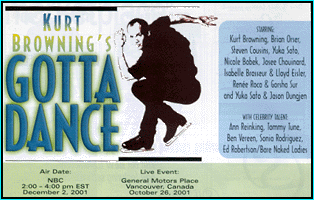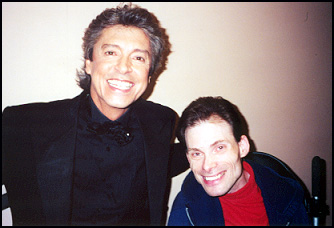 With multi-Tony Award Winner, Mr.Tommy Tune
I had an opportunity to have a brief but exclusive chat with 9-time Tony Award winner Tommy Tune, after a performance at Orange County Performing Arts Center in Costa Mesa, California on March 8, 2000. We talked of course, about his work with Kurt on Kurt's "Gotta Skate" special. He had nothing but praise for KB.
"He is not only a talented skater and artist -- a genius..." Tune commented. "but a great guy, as well...and you can tell him I said that!"
May I add that I found Mr. Tune to be extremely gracious and extraordinary performer as well. See him on tour, if you can.
Kurt Skates for Royalty
International Skating Gala In Nottingham
by Susan Askew
from http://www.bladesonice.com
In the harsh English winter of 1895, the people of Nottingham skated on the frozen River Trent under the arches of Trent Bridge. Just over a century later, ice skating in the United Kingdom has taken a giant leap forward with the official opening by Her Majesty The Queen, of the country's premier ice sports complex, the £43million National Ice Centre, in her Golden Jubilee year. Hosted and choreographed by Nottingham's own Jayne Torvill and Christopher Dean, the International Ice Gala promised to be the largest and most prestigious skating event held in the United Kingdom since Worlds in Birmingham in 1995.
Following the fanfare arrival of HM The Queen and HRH Prince Phillip, singing of the National Anthem and the official opening of the National Ice Centre, the skaters were introduced to the audience, using "Adiemus" by Karl Jenkins, wearing graduated red and yellow costumes. An evening of magical skating, involving stars of the past, present and future along with clever choreography was about to begin.
Crowd favorite, Steven Cousins, demonstrated how skating with Stars on Ice has influenced his presentation and connection with the audience. His number to 'It's About That Walk' by Prince contained neat footwork and the expression, which goes down so well with the Canadian and American crowds. It was no less effective in his home country.
Sasha Cohen showed a different side to her usual 'showy' style. Understated in basic royal blue dress, she skated to 'Aria' using a gymnast's ribbon, which accentuated the flow and line of her trademark spirals.
Always a firm favorite in Nottingham, Kurt Browning entertained the audience in his role as the 'Ragadin' clown. A true master of comedy on ice, he also managed to give one senior lady in the crowd the fright of her life when he leapt over the barrier and onto her lap. Her Majesty must have been thankful that she was seated in an elevated royal box at that precise moment! Apart from one fall, landing a jump, Kristi Yamaguchi, sporting a new shorter hairstyle, was "Smooth" skating to that very number by Santana. Arguably the best technical performance of the evening came from Ilia Kulik. His soft knee bend and strength were evident in two end-to-end Ina Bauers, which had the audience on the edge of their seats-perfect casting for his rendition of 'Rubberband Man'.
Perhaps the most eagerly awaited skaters were the two newly-crowned Olympic couples. First to take to the ice were Marina Anissina & Gwendal Peizerat. Skating to 'Spanish Dance', an expanded version of last season's Original Dance. In this performance, they never really captured the audience, despite attempts by Peizerat at encouraging crowd participation with occasional shouts of "Ole" which simply did not fit into the classical interpretation of the piece.
Still a favorite with his home crowd, Robin Cousins demonstrated his versatility by singing Gershwin's 'Strike up the Band'. He is clearly confident in this vocal role, although his voice was a little drowned by the full orchestra who accompanied him. Last to skate were Elena Berezhnaya & Anton Sikharulidze, again using their Charlie Chaplin 'Limelight' theme, this time incorporating a 'dance mix' rhythm. Whilst the Chaplin theme is popular, it would be interesting for their audience to be shown something completely fresh. They have introduced Barbara Underhill & Paul Martini's 'leap of faith' move into their skating, though the number did contain some minor slips.
One of the highlights of the evening was the finale to John Lennon and Paul McCartney's 'Let It Be'. Again choreographed by Torvill & Dean, with beautiful costumes in ice blue by Jef Billings, it was a superb conclusion of a wonderful, royal evening.
KURT AT GAMES
Saw KB cheering on fellow Canadian Jennifer Robinson at the 2002 Salt Lake Olympics during NBC's coverage of the Ladies'short program on February 19. You could use a shave, buddy!
Kurt In Jeopardy
Kurt was the subject of a clue on Jeopardy!, September 17 or 18, 1999. (Date dependant on weather on not Monday Night Football airs in that time slot in your area.)
*****
Kurt also received a mention on the TV series, Due South (TNT airdate: September 29, 1999).
Fraser, Sr.:"You never appreciate life until you're dead! One of the Brownings said that Kurt or Robert"
*****
What Dick Button Says About KURT!
"Well, of course Kurt ... I mean, I can't say too much about him. He, I think, is probably the most creative skater, in one aspect, in one sense, of this entire century. I mean, the things that he does are just maddeningly difficult, exciting, original, creative. He has more talent in his little finger, I think, than alot of the other skaters combined!"
--On The Olympic Show October 1999
WHAT OTHER SKATERS SAY ABOUT KURT
Russia's Alexander Abt in an interview with Paula Slater of About.Com said:
Q: Who are your favorite skaters, male and female?
A: My favorite male skater is Kurt Browning and for ladies I can't choose I like them all. In dance, Usova & Zhulin were my favorite.
*****
THE SAME OLD KURT
"Kurt Browning didn't change. Kurt is the same as when he came to Red Deer to skate..." "When Kurt Browning came to Red Deer, it (meant so much to) me,'' said Sale. "It inspired me.''
--Jamie Sale after performing for a small crowd in Alberta.
*****
SIMPLY THE BEST
"Kurt is simply the best I've ever seen."
--Scott Hamilton
*****
CANADIAN DOZEN
Neil Stevens of the Canadian Press has compiled a list of the top 12 moments of the 20th century in Canadian Skating. Underhill & Martini's stirring 1984 World triumph tops the list. Kurt's first quad is oddly missing but he was involved in 3 of the remaining 11. Here they are:
8. Kurt Browning and Elvis Stojko clash at the 1993 Canadian championships. Browning was so good in his now-classic Casablanca routine that he fell and still got a perfect 6.0 from one of the judges in Hamilton. Then Stojko came out and pulled more than 16,000 fans out of their seats with an amazing jumping display. Browning held onto his crown, barely, after one of the most dramatic nights of skating ever witnessed at the national championships.
7. Kurt Browning wins a fourth world title. Casablanca couldn't be beaten in Prague in 1993. Browning as Humphrey Bogart, with choreography by Sandra Bezic, will never be duplicated. It was the perfect vehicle to regain the world title, and Browning did it beautifully.
4. When he won in 1989 in Paris and in 1990 in Halifax, some of his chief rivals were hurting. In Munich in '91, Browning, landing triple-triple combos with a regularity never seen previously, laid to rest any doubt he was the world's best. He was in his prime, and it was a kick to watch!
*****
2000 ICE WARS SPOILER
The following is an excerpt from an e-mail from Debi Thomas, who was a judge at the November 9, 2000 event is Wilkes Barre, Pa.
"Ice Wars wasn't bad. The ice quality was bad, and the USA team had a lot of falls. It actually came down to the last two skaters (Brian Boitano and Kurt Browning). The USA team had actually caught up in the second round and was ahead by a tenth of a point, but Brian missed his 'Tano Triple lutz (which I've hardly ever seen him miss) and opened the door for Kurt to just narrowly outskate him, and brought the World team to victory. Kurt got the only standing ovation of the evening. We found out later that the ice had given way on Brian's take-off. It would have been really close if Brian had skated cleanly, and I'm not sure who would have won."
2000 (December 10) Won His Round At Hershey's Kisses Team Pro-Am (vs. Michael Weiss, opposing USA team won overall competition.)

For the World team, Canada's Kurt Browning won the opening men's match by scoring four 5.9s and a 5.8 in the presentation part of his skate. With spurs on the back of his skates, Browning delighted the crowd with a Western-themed program to Holly Cole's "Don't Force Me In."

"I'm still trying to decide how flirtatious you're supposed to be and how much cowboy you're supposed to be," said Browning, a four-time world champion. "I think it will get better."

Round: Men - 1

Marks, Totals and Ordinals: Interpretive Free Skating

Place Name Nat.
GBR RUS CAN FIN USA

1. Kurt BROWNING CAN
5.6 5.7 5.8 5.8 5.8
5.9 5.9 5.9 5.8 5.9
11.5 11.6 11.7 11.6 11.7
1 1 1 1 1

2. Michael WEISS USA
5.6 5.7 5.6 5.6 5.5
5.7 5.8 5.8 5.6 5.6
11.3 11.5 11.4 11.2 11.1
2 2 2 2 2

*****

Monday, January 31, 2000

'Quad' Browning's signature: Caroline skater inducted into Hall of Fame
By TERRY JONES, EDMONTON SUN CALGARY --

Skate Canada photo with fellow inductees Isabelle Brasseur, Lloyd Eisler and Tom Collins.
It was the closing ceremonies of the 1988 Winter Olympics in Calgary. Fireworks were shooting into the sky and stars from past Olympics were being paraded around in sleighs. Kurt Browning was in the mob of athletes from around the world absorbing the scene under his white cowboy hat when one of the sleighs stopped near him. Canadian skating legend Don Jackson called out his name. "Go for it,'' he told me. "Go for the quad! Do it!''
Donald Jackson, when he won the Worlds in Prague in 1962, became the first man in the world to do a triple Lutz. Kurt Browning left Calgary in '88 and went to Budapest and became the first skater in the world to land a quad in competition. The moment came back to Browning. Funny how that works on days like yesterday.
Kinda like Wayne Gretzky, Browning always did have timing. If you were to pick a time and a place to go into the Canadian Figure Skating Hall of Fame, what better time and place than this? While he'll be forever attached to Edmonton, not Calgary, this is as close to his hometown of Caroline as a Canadian Figure Skating Championship is ever going to get. This is where he competed in his first Olympic Winter Games. This is where he decided to go for greatness.
That moment with Don Jackson came back to Browning as he was inducted along with pairs skaters Isabelle Brasseur and Lloyd Eisler and tour promoter Tom Collins. "Don Jackson said it. Then he slid away,'' Browning remembered. "It changed my life.''
The four-time world champion said Jackson followed it with a telegram. "An old fashioned one,'' he remembered. "You know with the short sentences and the word 'stop' between them. I framed it. It's in my office.''
After one of the great days in Canadian skating history the day before, Browning may not have been the show here yesterday, but he was certainly the story. Only the dance event was left. Dance, as I've informed in this space long before the CBC's Fifth Estate made their Marilyn-Bell-just-swam-Lake-Ontario dance-is-fixed scoop, isn't sport. And dance without Shae-Lynn Bourne and Victor Kraatz isn't worth watching.
After the dance, as always, the championships concluded with the exhibitions. But for the first time this year, the show was preceded by the sport's Hall of Fame inductions. It was a terrific addition to the show.
While Calgary again disappointed in attendance (11,401 yesterday for an event total of 66,161 or fourth all-time behind 1. Edmonton '96, 2. Vancouver '97 and 3. Hamilton '93) there were tears in the eyes of many fans as they watched a career highlight package and heard Browning call here "home.''
It was a special scene. "It's an extra-special day,'' said Browning, who took a time-out on one of those 'If Today Is Monday, This Must Be Omaha' pro tours. "Almost my whole family is here.''
He said this was the perfect time and place for the ceremony. That said, he wouldn't have minded it if they'd waited a while. "I feel old. They could have waited five or six more years'' said the balding Browning. "To look at all the names in the Hall of Fame. That really impresses me. "I didn't get into figure skating to be in a hall or on a wall. When I was here for the Olympics in '88 I was trying to figure out what I was going to do that night. It was all about what was happening then,'' added the four-time world champion who won 19 international figure skating medals for Canada, 11 of them gold. So much has happened. So much is still happening for the pro who isn't close to contemplating retiring. "I'm having too much fun,''' said the former Royal Glenora skater who thanked his mom and dad and Edmonton-based coach Michael Jiranek. "This is fantastic,'' said Browning. "It''s a wonderful day.''
It's been a wonderful life for the son of a mountain guide and outfitter who wrote as remarkable a story as has ever been authored in this sport. When Don Jackson stopped that sleigh that day at the closing ceremonies of the Calgary Winter Olympics, he sent a kid on his way to being one of Canada's great figure skaters!
Visit the Hall of Fame Online here