KurtKountry: An Unofficial Kurt Browning Website



Stars On Ice 2003
Vancouver, BC, CANADA: General Motors Place
May 4, 2003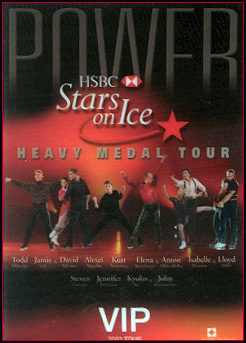 Mom and I arrived the day before the show. It was only about a two and a half hour flight from L.A. (+ customs, etc) but Vancouver is also a very beautiful city…so it's fun to "walk" around and see the sights. The weather was gorgeous when we arrived. (Unfortunately, that wouldn't last the entire weekend!)
We stayed at the Holiday Inn in Downtown Vancouver. The staff was kind and helpful, although they did "accidentally" give away the handicap-accessible room we reserved four months earlier. However, they provided us with a lovely suite instead, which worked just as well for us, if not better. Most of the hotels were quite full due to the Vancouver marathon being held the same weekend and, of course, the beginning of cruise ship season.
After we settled, we shopped a bit. There was a great mall nearby, and then had a nice dinner at the hotel, before enjoying our unexpectedly luxurious accommodations for the night.
We awoke to pouring rain, which, I guess, was less of a problem for us than it was for those competing in the Vancouver Marathon that day. We slowly got up and dressed, hoping the rain would stop. It didn't. It did lessen in intensity, so we decided to take a walk. Mom likes to walk. We made our way down to the harbor, which is absolutely beautiful. We were near the hotel, where we stayed for the 2001 World Championships. So, we stopped in for old times' sake.
To our surprise, we briefly encountered Anton Sikharulidze and Alexei Yagudin in the lobby. They were both busy and, in Anton's case dripping wet from the rain, so we just said a quick hello… But the surprises didn't end there!
As we strolled through the hotels underground food court, I was surprised to notice Jamie Sale & David Pelletier enjoying lunch with Steven Cousins, and his lovely girl friend, Kristina. Mom & I stopped by for a brief hello. We had seen them all last in San Diego, which they kindly remembered. David informed me that the show was actually one half hour earlier that I originally thought. I was planning an early arrival to visit with Kurt, etc…But Dave said: "Don't be late!" anyway. So, we were off to Mc Donald's for a quick bite. We still had a walk back to the Holiday Inn to get ready for the evening ahead, before catching a cab to GM Place.
Arriving at GM, we really had no trouble getting backstage -- thanks to the arena's kind staff at my good friends at IMG. After a brief visit and some kind Birthday wishes from Kyoko Ina and Isabelle Brasseur, KB made his way out --barely.
"I'll do the show, but I may have to limp through it!" he announced. He tried to practice but the pain (from what he would later learn was a "soft corn") he had developed on a toe was too great.
So, he sat down beside me. He said he was fine for the last show, but this day he could barely get his boot on. He removed the inserts he usually uses to make the boot fit snuggly in an effort to accommodate the swelling , but that wasn't working.
"I'll make the boot really tight for the show…maybe that'll numb (the foot)…or maybe we can find a doctor who'll give me a numbing shot!" He was determined not to disappoint the audience. He would concede doing two solos, instead of the planned three…but that's it.
Then, the conversation turned to his impending fatherhood. Sonia was doing great. The baby was "growing". He's ready to be a dad. We had a mini-baby shower, with gift s I'd brought. One of my gifts was a little baseball outfit. "I guess it's not for me, my elbow doesn't even fit. " he quipped. "It's fun to buy little things, isn't it?" He noticed the outfit's special accessory, "Oh my gosh, it's a baseball hat… his first hat!" Kurt exclaimed. He talked about the fact that the baby would be born in Spain, so that Sonia's Dad, who is ill, can participate. He also divulged his son's probable name (which I can now say is and was Gabriel, born July 12, 2003: 8.5 lbs.)…but I couldn't pass it on originally. As KB pointed out "you can't really name him 'til he's born." He also didn't know how much of the US tour he'd do next season: "Maybe none, maybe 5, maybe 25… I know I have be home more; The more breaks I can negotiate -- the more I'll do! " He's a family man now! My buddy thought he better go see what he could do about his aching foot. "I'll see you in catering, if I can." He sighed.
We spent a lovely time at catering with Isabelle Brasseur. She enjoys the tour, but misses her little daughter. She notes that husband Rocky Marval would prefer his little girl not pair skate -- "It's too dangerous…but if that's what she really wants, we'll support her." "Like your parents did?" I asked. "The difference is my parents didn't know what they were getting into…" Isabelle laughed!
Kurt blew in excitedly: "John, you'll never guess what just happened to me!" "What?" I asked with trepidation. KB explained that Jamie Sale was talking to doctors from the "Minnesota Wild" (who were playing the "Vancouver Canucks" in the NHL playoffs). She explained his situation and offered to help. By removing the corn in the training room: One doctor to cut; one to assist; and one to hold the flashlight! "They gave me some antibiotics and numbed it; I should be good to go… since this is the last show. I can't believe I just had surgery!" First I bang my knee in Toronto, now this… and it's only an eleven-city tour!" What he won't do for an audience! The show must go on!
Kurt ate dinner (steak and baked potato...I just had desert, a fact which did not go unnoticed by my sweet new friend, Jennifer Robinson) and miraculously skated a near-flawless show. "Slippery Side Up" was especially good considering the ending sequence relied entirely on his bad foot. It was a great show… and I had a nice visit from a Canadian e-mail buddy (Hi Donna!) I had not met before. I got a few waves and winks during the performance from Kurt and Todd Eldredge, etc. Thanks to my on-ice seat.
I received Happy Birthday wishes from the entire cast backstage and even shared a champagne toast with Kurt, who experienced more pain pulling his skates off than he did skating! OUCH!!!!!!!!!!!!!!!! The following day, he would visit his family in Alberta…before heading to Spain to welcome his son into the world. "Have a nice summer!" I said. "Yeah. Lotsa changes…" Kurt replied as he wandered off.
Please Click Here for more STARS ON ICE reviews, articles & info
*****
SPECIAL THANKS TO:
The entire cast and crew of "STARS ON ICE," especially David Baden, David Hoffis, Jamie Sale, David Pelletier, Steven Cousins, Isabelle Brasseur, Kyoko Ina ,John Zimmerman, Jennifer Robinson, the staff of the General Motors Place... and, of course, Kurt Browning -- all of whom helped make this wonderful weekend possible!
We thank you for the


hits we have received here!

Copyright 2003 by John H. Baker, unless otherwise indicated.