KurtKountry: An Unofficial Kurt Browning Website



Stars On Ice 2001
Los Angeles, CA: Staples Center
January 17, 2001
The toughest thing about this show is getting into the building, whether you have tickets or passes…or whatever! Even though we had VIP ice-level seats, the ushers were unwilling to let us down to that level to get to them! They seemed skeptical that our tickets were valid. I don't know whether it was the wheelchair or what?
Finally, we got downstairs and led us back and forth through the arena, trying to confirm and reconfirm our tickets. We told them who to contact, but they were unwilling to do so.
Eventually, we passed catering and Todd Sand was sitting near the doorway eating a piece of cake. He yelled "Hi John", so we just went in and our "bodyguards" seemed to disappear. Todd didn't want me to get too close, as he was suffering from a small cold… but he said and his wife and partner, Jenni Meno, are still enjoying the tour, and always look forward to sleeping in their own beds while in Southern California.
We sat in the hallway outside the dressing rooms and Scott Hamilton appeared. He tried to get security to let us through, but they would have none of it. So, he sent my buddy, Kurt Browning, out to see me instead.
Kurt looked a little tired, and he said his knee was bothering him due to a fall he had taken the night before in Tucson. He was excited, though, because his father, Dewey, would be joining him on the road for two weeks, after visiting friends in Arizona. Kurt thought it would be very good for the two of them to spend more time together following the death of Kurt's mother, Neva, last Summer. They are dealing with things pretty well… but, of course, it takes time!
This was a good time to give Kurt his annual present. (Of course, Kurt says it's "always a good time for a present!") It was a photo of us in a special "FRIENDS" frame. He seemed to really like it! He went to see if he could find us some "post-show" passes, but by the time he returned…we already had them! It was time for him to get ready to skate…so we went to our seats.
This is a fun show to watch. Especially, from ice-level on the opposite side from the tunnel. It was a good show for everyone (including Kurt, who despite his knee problems, barely-missed a triple axel.) Since I was only inches, from the ice, Kurt and I were able to communicate non-verbally throughout the show especially during the first-act finale, during which he spent much of the time, seated in a chair in front of me.
Delightful friends of Scott's choreographer, Sarah Kawahara, were seated next to us… we had a wonderful time with them, Sarah and her family during the intermission…and after the show as well.
At the end of the show, I got a quick handshake from Scott.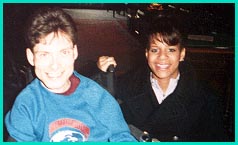 ...With Debi Thomas at Worlds in Budapest, Hungary in 1988.
We spend most of the post-show period visiting with former U.S. , World Champion & Olympic Medalist, Dr. Debi Thomas, who recently moved from Little Rock, Arkansas to Los Angeles to begin her residency in Orthopaedics. She enjoys the work, but misses her husband and son, who remain in Arkansas for the time being. She likes to judge pro competitions, and is a committee member of the U.S. Figure Skating Association, but freely admits to skating so rarely that she has trouble doing a double toe loop these days! Debi looks great though. We've kept in touch, but we hadn't seen each other in years, so it was a great treat!
It was getting late, and I knew I'd see KB and the gang in Anaheim in a few days… so we were on our way. I didn't get to use my camera … but there'll be photos from Anaheim, and, especially San Diego!


COPYRIGHT 2OO1 By KURTKOUNTRY ONLINE