KurtKountry: An Unofficial Kurt Browning Website



Stars On Ice 2001
Anaheim, CA: Arrowhead Pond
January 20, 2001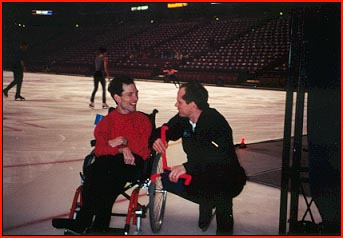 Getting into the Pond was certainly easier than getting into the Staples Center. The staff was so courteous and helpful that we were downstairs and getting our passes in no time.
The first people we ran into were new cast member Yuka Sato, and her husband, former U.S. Pair Champ, Jason Dungjen. They both look great and Yuka really seems to be enjoying the tour… of course, it's always a pleasure to see Yuka skate, and she certainly doesn't disappoint in this show. They were both surprised that I was not at U.S. Nationals in Boston, but I would never miss my time at "Stars On Ice", and was already planning a trip to Worlds in Vancouver, and could simply not afford to do both anyway.
They were on their way to catering, so I decided to go out to the ice to see if I could locate Kurt. As luck would have it, he met me at the end of the tunnel, as he was just finishing his warm-up.
"You wanna come out (onto the ice)?" He asked, remembering our experience of the previous year.
"If you want…" I replied.
He looked around and there were still other people warming up. "I don't know if I should… aaah, we won't go far."
He took my wheelchair to the nearest end of the ice, out of the way. He grabbed around the chair from behind, not just pushing by the handles like last year. I felt very safe! "Where did we do this last year? Here?" Kurt asked. I said it was, and then we began to spin, even faster and longer than last year. I loved it! When we were done, Mom said: "You know, he (gets physically sick) very easily." KB looked at me. "You mentioned that, didn't you… You look ok to me!" I was just a little dizzy… Kurt said it would pass. He gets the same way if he hasn't skated for a month or so. As we approached the tunnel, he noticed Mom had our camera. He stopped. "Photo op! Can I sit on your armrest so it doesn't look like the old pictures."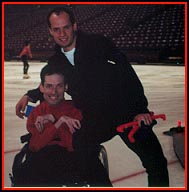 When we finished posing, Kurt asked what I'd been doing. I was watching the Presidential Inauguration. Kurt said Canadians learned a lot about the U.S. electoral system this time. "So did a lot of Americans," I admitted .
We had noticed Kurt & Sonia's dog in the program. They really enjoy having her. I also asked him how his Spanish lessons were coming. Kurt has resigned himself to the fact that he'll never lean Spanish. But since Sonia's sister has moved to Toronto, plenty of Spanish is being spoken at Casa de Rodriguez-Browning. And, at least, with Nyah, he was doing a Spanish-themed program. "Though we never intended it to be authentic Flamenco," he confided. Kurt had to go take his skates off and suggested we meet him at catering.
But before we could make it to catering, we had brief encounters with Yuka and Tara Lipinski. Kurt returned just as they had left, and said: "You didn't have to wait here, I said I meet you at catering."
Before I could explain, we were at catering happily visiting with Kurt's dad, Dewey. He's doing well and he was as friendly as always, talking about his 350-acre ranch in Alberta. He is so proud of Kurt and all his accomplishments. But there are still things left for Kurt to accomplish. He has often mentioned that Sonia is a great cook. But, apparently, he doesn't know how to cook at all. We know he can't speak Spanish, so I asked him what he can do besides skate. His reply: " I don't know. I've never had time to find out!"
Then the topic turned to Worlds in Vancouver, and the favorable monetary exchange rate I would benefit from during my trip. Kurt had recently exchanged some Canadian funds, and was not too excited by the results… But maybe with the money I had left over I could make a second trip to Vancouver for the "Stars On Ice" show there. It's a possibility!
Jenni Meno stopped by for a visit at that point. She was sort of surprised to see me, since her husband Todd, forgot to mention I said "hello" in L.A. Nevertheless, It's always great too see Jenni. We chatted about how nice it must be for them to stay in their own home for a few nights during this part of the tour… while Mom got Scott Hamilton to autograph a copy of his autobiography for me. I just heard: "It's John with an "h", right?" coming from down the long table.
It was time for KB to go to physiotherapy to get "stretched out" before the show. He said he see me the next day in San Diego. I sit up in the wheelchair section, which is ok because it gives me a different view of the show. I couldn't see him afterwards because he had people to meet and work to do. But he had no such commitments in San Diego, so there would be plenty of time for us then.
This show was a great one. Kurt nailed a triple axel, as well as a triple toe-triple toe combination during "Don't Fence Me In." Not bad for an old man!
The most exciting thing happened during intermission. On our way to try to locate some friends, we almost literally ran into Scott Speedman, who plays Ben on the TV series, "Felicity." It was odd because we are already aquainted with one of his co-stars, Ian Gomez (Javier) from our visits to ABC's "Norm" show. We talked about the show for a while… and the Keri Russell (Felicity, herself) came out of the ladies room. She's even prettier in person than she is on television. The were both incredibly sweet and patient. I am so glad I had my camera!
All in all, it was a great day! But there was even more fun waiting in San Diego…


COPYRIGHT 2OO1 By KURTKOUNTRY ONLINE