KurtKountry: An Unofficial Kurt Browning Website



Stars On Ice 2001
San Diego, CA: San Diego Sports Arena
January 21, 2001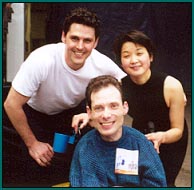 ...Backstage with Yuka Sato & Jason Dungjen
The San Diego show was the best experience of three "SOI days" this year. No problems getting in, as the security people remembered me from previous years. We went directly to the ice, where the first warm-up group was just finishing their practice. Kurt Browning was just finishing a slice of pie, as he watched and waited for his turn on the ice. We chatted for a little while. I gave him a mini candy bar wrapper with his photo on it that a friend at made for me. Of course, he had to show it off to everyone in the building! While he was getting ready to skate. I watched Tara Lipinski pose for photos for a charity auction website. KB returned and was going to take me out on the ice with but I was kind of tired. I had stayed up until 2 a.m., having videotaped coverage of US Nationals… I didn't think spinning would be a good idea. Kurt felt badly until he realized that my condition was (in his words) "self-inflicted." So, he began to spin himself. Mom asked how he can skate after just eating. Kurt said he never found that to be a problem. The problem comes if he tries to skate without eating, then he tends to get a little light-headed. Then I asked how what happened to the triple lutz, he was working on the previous year. "I'll show ya!" he said proudly. He got up some speed, and performed complex footwork into not one but two strong, clean triple lutzes. He noted that the ISU requires footwork into the jump (during the short program), and that seems to be the only way he can do it. Mom said: "How about the quad?" He said he surprised himself, and his coach, Michael Jiranek, by landing one on the first try at the USFSA Pro-Am in December 2000. He never intended to try one in the competition, as some had suggested in chat rooms. At 34, he just tries them for fun, and only when he "feels really good!" "Do you ever feel really good?" I asked. "…In the bathtub," Kurt replied. He did what he had to get done on the ice. It 's always fun to watch him… and the other skaters… at one point they had seven skaters coming down the ice toward me doing simultaneous triple toe loops. It was impressive! Kurt took sometime to take his skates off, and to be with his dad. The others cleared the ice too, so Jason joined Yuka to work on pair skills. Yuka says she really enjoys pair skating. Their overhear lifts are good. They also performed a strong throw and a beautiful death spiral. When they were finished, we talked for a bit. It was the first time Yuka ever noticed the seat belt in my wheelchair. I told her that my front teeth were knocked out once when the chair tipped forward… and that I especially needed it when Kurt took me out on the ice. For the first time this year, I encountered Kristi Yamaguchi. She was suffering from a terrible cold, which had clogged her ears. She was having trouble hearing the music. Her mother suggested that she only do the group numbers to conserve her energy, but Kristi didn't want to disappoint anyone. So, it was on with the show. She still shined with the happiness of a newlywed as she talked about her wedding day, which she said: "went too fast." Then, Mom and I joined them at catering, also at the table were Kurt, Scott Hamilton and Steven Cousins. Most of the time, I just sat and listened. But we did discuss Kurt's first attempt at professional choreography with "Sin Wagon". "He's pretty good, isn't he?" Scott offered with pride. KB was proud himself, though he felt Michael Siebert's name should be added to the program, since he "helped out with the pattern." Kurt was so excited about the razor scooter that was given to him by costume designer, Jef Billings.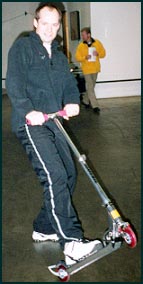 They talked about practice and old times and being on tour. For Kurt, Scott and Steven the conversation continued through a backstage soccer game. (That is, once the could pry Kurt off his scooter. He really is a menace on that thing!) Scott was kind enough to pose for this photo during a "time out."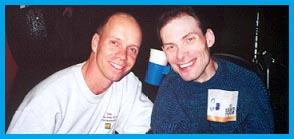 Kicking the soccer ball around helps them warm-up before the show… They got so involved in their "game" this time, that they never heard the "30 minutes" (to show time) call. I heard it , which was a good thing… because when Scott asked if it was time, I was they only one to answer.
The show was great as usual, and I had a super "on ice" seat, which led to a couple of surprises. The first came intermission, when a few enthusiastic Kurt fans approached, having recognized me from this website. Thanks for your support, it really means a lot! The second came at the end of the show, after the finale, Kurt skated over, stopping abruptly to fling a few ice chips up at me… Then he, had a hug and kiss for both Mom and I. We exchanged some personal thoughts. It was a very special moment!
After the performance, we spent some time with Kristi's mom, Carol and her Aunt Kay. I always enjoy their company. Kristi was changed quickly and they had guests. I was still waiting for Kurt. He's always the last one out of the shower. But, at least, it gave us time to say good-bye to Yuka and Jason, who are always so sweet.
Finally, Kurt emerged with a plastic bag he had been using for an ice pack. He thought maybe I could sell it on e-bay. "Would anyone buy such a thing?" I asked. I never got an answer. Then again, I never got the bag. That'll teach me. We said our usual tearful farewell. Actually, Kurt never says good-bye to me. Whether on the phone or in person only "Cheers!" Then, he had to sign autographs for some guests. So we were off.
On the way out, we thanked Todd & Jenni and Tour Director, Dave Hoffis for their kindness… and that was that for another year!


COPYRIGHT 2OO1 By KURTKOUNTRY ONLINE