Stars On Ice 2002
Anaheim, CA: Arrowhead Pond of Anaheim
January 19, 2002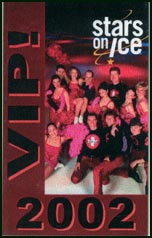 The Anaheim show is the one that takes place closest to home, which is difficult because it seems like a long day before we even leave the house -- even though we get to go early…
Though I was impatient, Mom and I arrived at the Arrowhead Pond at the appointed time, found the concierge… who obligingly called the production office and got clearance for us to go downstairs… soon I would see Kurt without a hitch… right? Wrong!
The cast stays a hotel in Los Angeles, and the bus was stuck in freeway traffic and was expected to arrive as much as forty minutes late! This would change everything… eating schedules… practice schedules… the works! The only reason we got the green light to come down was because Scott Hamilton was there visiting… and doing some special work for the "Maury Povich Show." Todd and Jenni were also there, as they came from their nearby home.
The cast finally rolled in, and we received cheery "hellos" from most of the cast and crew, including Kristi Yamaguchi and Katarina Witt. When Kurt straggled in at the end of the line, I could resist saying, "Beat ya!" "Congratulations," he replied sarcastically. Some people get so grouchy when they get stuck in traffic!
We basically just hung around and waited for Kurt to emerge. Finally, he did. Accompanied by a friend (Kurt did not introduce us). Each was carrying one of KB's skates, and some other kind of implement.
When we arrived at our appointed destination, an out of the way spot behind the ice, Kurt explained that the skates were new, and part of the break-in process involved shaving down the sole, so that when you leaned on edge, the boot won't touch the ice and cause the skater to slip off the blade. His companion had obviously never done this before, either… checking with KB at very move. Kurt had begun the break-in process during the San Diego show… "They were pretty good," he said. "I was able to do double axel and triple-toe… but I wouldn't try a triple Salchow yet… usually triples take a couple of weeks… These may be good jumping skates. Sometimes they spin really well, but you can't even do double loop in them. We'll have to see."
The topic then changed to Scott. Cameras followed as he showed an adorable little girl (also in a wheelchair) around the backstage area. Kurt explained that she has a condition which causes her bones to break easily, and has suffered about 100 breaks in her short lifetime. Having only broken my leg once due to physical therapy accident, I cannot imagine what she endures. I am so glad this special wish came true for her!
Kurt was still filing away on his boot (and subsequently making a mess on the floor), when I wondered out loud what these boot filings would go for on EBAY? KB said, "Hold out your hands!" When I did, he scooped some shavings off the floor, and deposited a generous helping in my hands. "Now you can find out," he announced proudly. With that, he left to get ready for his turn on the practice ice.
So, Mom and I talked to Todd & Jenni for a while. They said they had been getting mixed reactions to the show this year… There is a lot of talking, Ilia Kulik is not utililized in the group numbers…and many people feel that Kurt's talents are underused as well… but the focus is on the women this time…and as I told them, Todd & Jenni really shine in "The First Time Ever I Saw Your Face" and the clever "chair" number.
Then we ran into Denis Petrov, who said he enjoys his number with Kristi Yamaguchi very much, and is sad that this is her last year in the show. "She's a great pair skater," he said "but it is difficult to do two things well at once… I think she made the right choice (concentrating on singles)." US champion, twice World Champion, Olympic Gold Medalist… Yeah… I guess I'd have to agree with Denis.
Kurt finally made his way back to the ice, I watched from the tunnel as he very gingerly tested out his new equipment. He was doing lots of doubles-- mostly loop jumps. Meanwhile, Lucinda Ruh was performing some really good double axels! She a great spinner, but to see her out jumping the man who landed the first quad in competition was quite a sight, indeed. Even Kurt commented, saying the jumps were among the best he had ever seen her do. Eventually, he landed some double axels of his own and a triple toe or two, but some were two-footed. He would attempt the double axel-turn-triple salchow sequence from the beginning of "Elevation." "That's probably a few weeks away," he admitted.
We talked a bit after practice. I had brought him a copy of thePeople magazine about Scott Hamilton last U.S. SOI show. He didn't have one last time we spoke. He said: "I've been quoted in People twice and Time three times… but only with Scott…" Poor guy!
He said he'd see me after the show, as he was still behind schedule. I told I had a migraine and may not stay for the whole show…or even make to Los Angeles…
"You really might not do all three shows." He said.
I told him I would try. He said he understood, and gave me a kiss on the cheek. Once I made it past the Ilia Kulik-Steven Cousins ping pong match, this time, Ilia hit a ball straight into my lap....we searched until it eventually fell through the bottom of my wheelchair. I went up to watch part of the show…but then I realized I better get home and rest if I had any hope of making it to L.A. -- which I did, but just barely!