On this site:
Learn more about your webmaster!
A website dedicated to 4-time World Champ, Kurt Browning!
Photos of the famous (& me)!
More great skating websites!
My encounter with the 3-time World & 2002 Olympic Champ!
Design by John

All material Copyright 2001-04 BY JHB ONLINE UNLESS OTHERWISE INDICATED.


Contact the webmaster here for more info.
***
TV ALERTS
All times eastern, check listings in others time zones!
2004 Marshall's World Challenge
ABC-TV on May 9 1:00-3:00 p.m.
***
MORE NEWS:
Kerrigan in USFSA Hall of Fame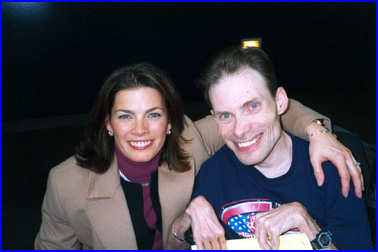 ...with Hall Of Fame inductee Nancy Kerrigan @ 2005 US Championships in Atlanta; Fellow inductees included 1988 Olympic Medalist Jill Watson& Peter Oppegard and former USFSA President, Hugh C. Graham.
2003-04 ABC-TV Tentative Skating Schedule Here
***
2004 DISSON SHOWS
10/16/04
SMUCKERS PRESENTS KURT BROWNING'S GOTTA SKATE
Confirmed Entertainment - Savion Glover and Jann Arden
Copp's Coliseum, Hamilton, ON
Air Date: Sunday, December 19, 2004 NBC (4:00 - 6:00 p.m. EST)
10/20/04
KATARINA WITT & FRIENDS
Sovereign Bank Arena, Trenton, NJ
Air Date: Saturday, January 8, 2005 NBC (4:00 - 6:00 p.m. EST)
11/05/04
MCCORMICK PRESENTS KRISTI YAMAGUCHI'S SALUTE TO AMERICAN MUSIC
Confirmed Entertainment - Michael W. Smith
Giant Center, Hershey, PA
Air Date: Sunday, November 28, 2004 NBC (4:00 -6:00 p.m. EST)
11/12/04
MCCORMICK PRESENTS ANDREA BOCELLI TRIBUTE ON ICE
Confirmed Entertainment - Andrea Bocelli
Bridgeport Arena at Harbor Yard, Bridgeport, CT
Air Date: Saturday, December 18, 2004 NBC (4:00 - 6:00 EST)
11/27/04 STARS ON ICE 2005
Lake Placid, NY
Air Date: Sunday January 2, 2005 NBC (4:30 - 6:00 p.m. EST)
11/30/04
YANNI ON ICE STARRING TODD ELDREDGE
Budweiser Events Center, Loveland, CO
Air Date: Sunday, January 9, 2005 NBC (4:00 - 6:00 p.m. EST)
12/03/04
CAPITAL ONE HOLIDAY CELEBRATION ON ICE
The Scope, Norfolk, VA
Air Date: Saturday, December 215, 2004 NBC (2:00 - 4:00 p.m. EST)
12/18/04 AFLAC PRESENTS BRIAN BOITANO SKATING SPECTACULAR
Confirmed Entertainment - LeAnn Rimes
Mandalay Bay Events Center, Las Vegas, NV
Air Date: Saturday, January 1, 2005 NBC (4:00 - 6:00 p.m. EST)

***


2004 STARS ON ICE (USA TOUR)SCHEDULE HERE
Read Scott Myers Dallas SOI REVIEW here.

***


BACKSTAGE @ SMUCKERS STARS ON ICE '03: ANAHEIM '03 NOW HERE!

SAN DIEGO 2003 now here...exclusive photos of Browning, Sale, Ina!

***


Stars On Ice: Canada Info Here!
BEHIND THE SCENES: SOI VANCOUVER 2003!

***

***

READ ABOUT MY TRIP TO SKATE AMERICA 2001 HERE!
Includes chats with Sale/Pelletier, Bourne/Kraatz & Belbin/Agosto!

***


BELBIN/AGOSTO
....congrats on their 1st Grand Prix victory @ Skate America 2003, as well as their first US Championship & the Four Continents championship won in January 2004!, as well as for a great top 5 World Championship (best for USA since 1990) finish in Germany in March!

***

COMPETITION RESULTS (SPOILERS)

Click event title: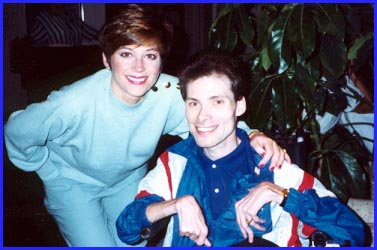 With Dorothy Hamill @ 1992 US Nationals; Orlando, FL.
Hamill Honored
U.S., World & Olympic Champ, Dorothy Hamill was among those honored at the "Great Sports Legends Dinner" September 30, 2003 at New York's Waldorf-Astoria Hotel. Other honorees included: Cal Ripken, jr; Oscar De La Hoya; David Robinson and Roger Penske
JHB ONLINE: FIGURE SKATING
KWAN IS USOC ATHLETE OF THE YEAR
More here from US figure skating
She receives the trophy here!
VOTE KRISTI YAMAGUCHI INTO THE OLYMPIC HALL OF FAME.
Click to vote ONCE A DAY!
***
Stars On Ice 2004 photo page now up!
***
Read Kurt Browning's interview with the Ottawa Sun (February 2004) here!
Marshall's World Skating Challenge
April 6, 2004: Providence, RI
More Info here
UPCOMING FIGURE SKATING CHAMPIONSHIPS
<
2005 U.S. Figure Skating Championships — Portland, Ore., January 9-16, 2005
2005 European Championships - Torino, Italy; January 24-30, 2005
2005 World Championships - Moscow, Russia; March 14-20, 2005
2005 Skate America - Atlantic City, NJ; October 27-30, 2005
2006 U.S. Figure Skating Championships — St. Louis, Mo., January 7-15, 2006
2006 World Championships - Calgary, Alberta, Canada, March 20-26, 2006
2007 U.S. Figure Skating Championships — Spokane, Wash., January 21-28, 2007
Robinson announces retirement
More from Slam!
Bourne Prepares for Comeback
More from Slam.
Naomi Lang expecting; splits with skating partner
More here.
Swallow directs dance in Detroit
More here.
Kwan also named USOC athlete for month (January 2004)
More here.
Michael Weiss Foundation Offers Scholarships to Young Skaters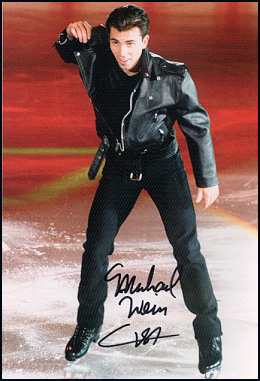 (2/3/04) — Three-time U.S. champion Michael Weiss is pleased to announce the formation of The Michael Weiss Foundation, a nonprofit organization created to address the issue of the high cost of figure skating. The foundation will offer skating scholarships funded by Weiss himself.
In its initial endeavor, The Michael Weiss Foundation will provide Olympic-eligible skaters facing financial hardships the opportunity to be awarded with one of three levels of financial support. Funding provided by the foundation will cover costs associated with training and competing at the Olympic-eligible level such as coaching, choreography, costumes and music.
"I knew when I was an up-and-coming skater; being recognized for my accomplishments and encouraged through financial support inspired me as a young skater to work harder and increased my determination to suceed," Weiss said. "It has been a dream of mine to inspire and support young skaters, and this is a way that I can help the future of figure skating."
Applicants must be an Olympic-eligible skater for the U.S. and a current member of U.S. Figure Skating; applications will be accepted from singles skaters of the intermediate, novice and junior levels and must be submitted by someone 18 years or older. If you would like further information about applying for the scholarship, go to www.michaelweiss.org. The application deadline if Feb. 23 at 5 p.m. Eastern time.
Winners announced.
Jr. Grand Prix in Long Beach, CA
More from USFSA
NEW JUDGING SYSTEM "EXPLAINED" BY ISU
MORE HERE.
WORLD SKATING FEDERATION FORMED:
Info here
*****